Online Microblading Certification Course
The program of our Microblading Online Course is approved by IBHE.
Before enrolling in our Microblading Online Course, please review this text for a realistic expectation of your journey with EWB Academy.
Our program and online platform are structured for all experience levels and tested rigorously for 5+ years for efficiency. EWB's Microblading Online Course or 3-day hands-on Microblading Training will ensure that you receive the best education available through our school, supported with an online platform and Master or Master Assistant supervision.
Our Microblading Online Training curriculum constantly evolves. EWB Microblading Online Course is designed to help you achieve your goals in the Microblading industry.
There are four levels to become a Master Microblading Artist:
Your hard work and determination are essential to being successful and EWB is here to help you build your dream career!
How does our Microblading Online Training work?
Anyone age 18+ and has a passion to succeed is eligible to become a student.
Students who decide to enroll in our Microblading Online Course, have a chance to choose their trainer on our home page. In the online course, we will go over theory as well as practice on latex and live models. All-time during the online course your progress will be monitored and supported through different levels by a master assistant. Upon successful completion of the online course, all students will receive an EWB title and certificate.
For more information about hands-on training click here.
Microblading Premium Kit Included
Registration for the Online Microblading Certification Course includes the most important features of mastering the art of Microblading:
The EWB Premium Kit (Free Worldwide Shipping)
6 months Training and Support to Ensure You Achieve The EWB Standard
Access to all lectures (Sterilization, Color matching, Client Consultation, and much more…)
Access to All Mapping videos
Access to Pattern Breakdown videos
Access to Live Procedure videos
Internationally Recognized Certificate
Custom EWB Title with Your Name
Placement on EWB Webpage for Marketing
Lifetime Support
Start going through the various levels of training with our supervision over the next six months, develop your skill, master your technique.
Microblading Online Course – Four Levels of Graduation
Artist

After completing all levels of Fundamental Microblading training and demonstrating an essential skill for performing Microblading, the academy promotes you to Artist. With this title and certificate, you may begin your career, build your business, employ at any beauty salon, and grow your monthly income.
Royal Artist

To become a Royal Artist, you must show your Master Assistant supervisor that your work and customer service are advanced. Once your request is approved, we will issue you a Royal Artist certificate to improve your quality of artwork and demonstrate superb customer service. With this certificate, you are one step closer to the title Master Assistant.
Master Assistant

The Master Assistant title is given to Royal Artist who have exhibited above-average skill and mentored others in the craft of Microblading.
To become a Master Assistant, you have to know all aspects of skin anatomy, recognize skin problems, and address these issues. Also need to know how to sell and promote your services
through platforms like Google, YouTube, and other social media sites.
What are the benefits of this title? We will promote you on our website, and new students can choose
you as their mentor.
Master Assistant will assist Artists and Royal Artists with practice on latex and later on with live models and grow while earning $500 per student you monitor.
Master

To become a Master, you must meet the following requirements:
1. Recognizable signature work.
2. Monitor the most significant number of students in your country.
3. Experience – Minimum of 12 months.
With this title and certificate, you will have the opportunity to hold hands-on courses in your country and begin teaching students all over the world! Even you can make your own Masters who will continue to repeat and grow this system and learn your signature technique. EWB will provide all necessary tools, manuals, and online support for your students.
Microblading Online Course Curriculum
Years of hard work and effort have created the most powerful microblading online course curriculum
Introduction
Meet the Founder

What Your Eyebrows Say About You

History of Eyebrow Trends

History of Using Hand Tools for Tattooing

What is Microblading?

Skills Necessary To Be Microblading Artist

Is it Permanent or Semi-permanent?

Who are Microblading Clients?

Who Should NOT Get Microblading?

How Long Does Microblading Last?

Touch Ups: A Part Of The Process

Healing Process Expectation

How Much Does It Cost?

Regulation and Insurance
Workplace Safety
OSHA

Bloodborne Pathogens

HBV

HIV

Hepatitis C

How to Prevent Accidents

Safe Workplace Practices

Safe Handling of Needles

How to Handle Exposure

Sanitary Work Environment
Clients and Consultation
Consultation

Forms

Our Clients
Skin Anatomy
Skin Anatomy Basics

Skin Types

Skin Diseases

Scars

How Does Aging Affect The Skin?

Skin Infection

Skin FAQ

Scarring

Color Durability
Depth of Penetration
Depth of Penetration Introduction

Finding the Sweet Spot

Thickness of the Skin

Problem and Solution

Lymph
Choosing a Color
Method for Choosing Color

Fitzpatrick Scale

Skin Undertone

Hyperpigmentation

Matching Brow Color
Tools
Premium Microblading Kit

Manual Pen

Needles

Topical Anesthetics

EWB Pigment Line

Pigments
Body Position and Posture
Body Position

Hand Position
Mapping
The Golden Ratio

Mapping

Brow Shaping On Paper No. 1

Brow Shaping On Paper No. 2

How To Use The Golden Ratio Compass

How To Use The Golden Ratio Compass On A Model

How To Use The Golden Ratio Compass On A Model Sitting Behind
Eyebrow Anatomy and Pattern Breakdown
Hair Strokes

Brow Hair Sections

Pattern Breakdown

Pattern Breakdown On Latex (No Ink)

Pattern Breakdown On Latex (With Ink)
Process
Inserting the Needle
Microblading Procedure
Aftercare
Stages of Healing
Aftercare Instructions
Danijela Milovanovic
Instructor & CEO
Years of study, research, and innovation combined with a strong passion for aesthetics and beauty made Danijela an accomplished Permanent Make-up (PMU)/Microblading specialist and passionate instructor. Danijela started her PMU career in Europe, Serbia back in 2012. It was at that time Danijela realized how important it was to improve her skills and knowledge in order to achieve her vision of changing people's lives through PMU. Danijela invested all of her time and effort to work on achieving the most natural PMU results by learning and practicing the most advanced PMU techniques… (read more)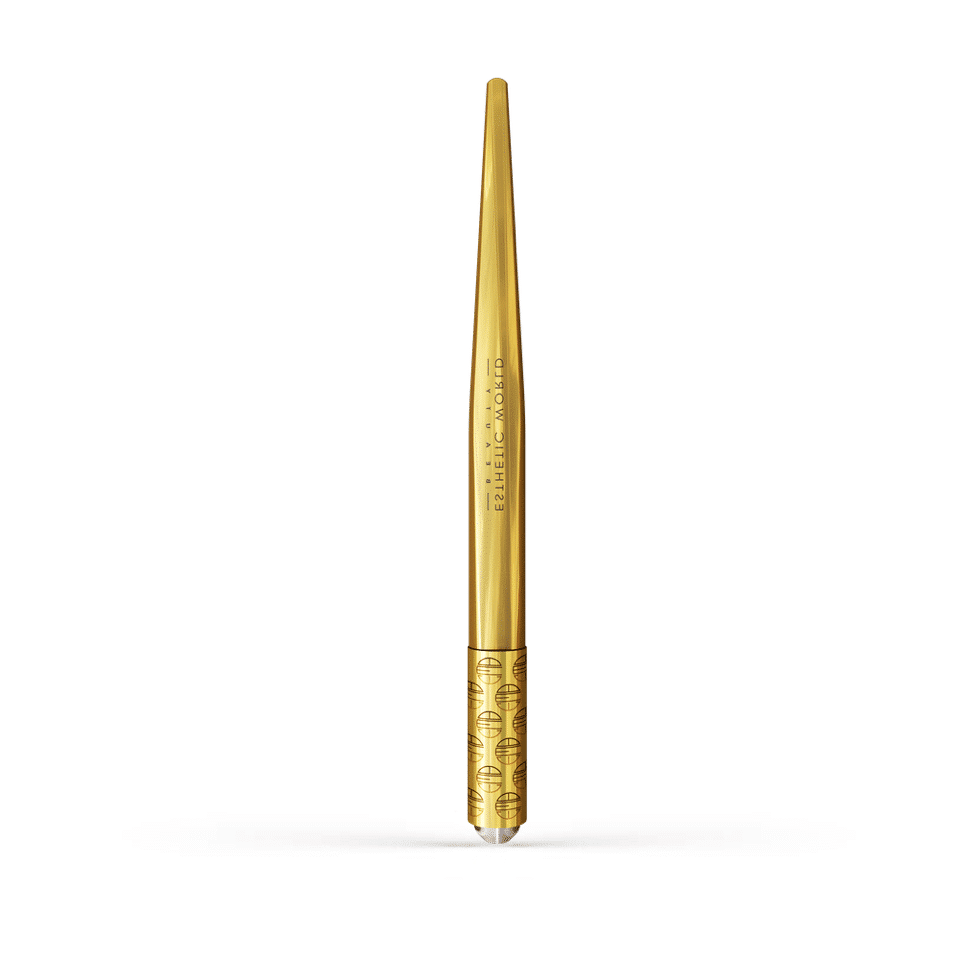 Pigment Ring With Blade Cleanser
Disposable Microblading Pen 14CF
EWB Signature Universal Gold Microblading Holder
Ultimate Esthetic World Beauty learning experience delivered online